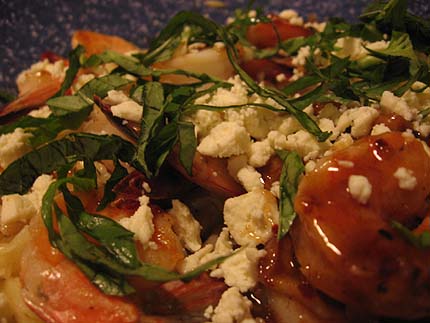 This was really, really good. I half remembered making something with shrimp and orzo and feta before but I'm pretty sure I baked that in the oven. So, I kind of threw this together based on other recipes I've seen before and what I had on hand. The garlicky, lemony wine sauce is amazing tasty! jwa brought the leftovers to work for lunch Thursday and I almost tried to steal them from him, as I really liked this dish. But, I didn't — I am too nice.
Spicy Lemon Garlic Shrimp with Orzo:
1 1/2 cups uncooked orzo
1 tbsp olive oil
6 cloves garlic
1/2 onion, sliced
1 yellow pepper, julienned
3/4 of a pound raw shrimp, cleaned and deveined (the first time I typed this out I wrote "3/4 of a pond" and I almost left it because it was pretty funny)
juice and zest of 1 lemon
1 cup dry white wine
a pinch of red pepper flakes
3 tbsp unsalted butter
8 basil leaves, cut in long strips
1/3 cup feta
salt
lemon pepper
Cook orzo according to package. Drain, toss with olive oil, and add salt and pepper (lemon pepper works well if you have some) to taste.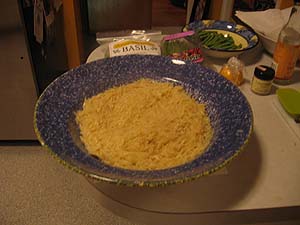 Cover and keep warm with foil. Meanwhile, heat . . . → Read More: The Last Recipe Post of 2005: Spicy Lemon Garlic Shrimp with Orzo