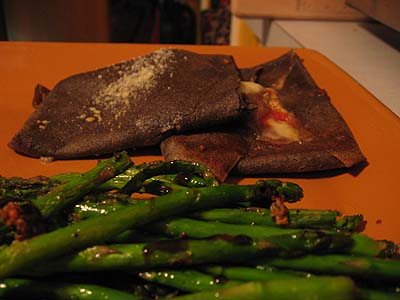 This recipe comes from my Crepe cookbook — a present jwa got me a couple of years ago. It's amusing because one of the recipes in the book is for buckwheat crepes with ham and cheese, inspired by the same dish at Ti Couz, in San Francisco. I've been there — and I had the ham and cheese buckwheat crepe, too! I went there a few years ago with Christy, Cindy and Cindy's friend, whose name I can't remember right now. Well…I thought that coincidence was interesting.
I go through crepe phases — I make a lot, then I forget about them for a while. The one thing about crepes is that they take planning, as you need to let the batter sit in the fridge overnight (or at least two hours). So, you need to know ahead of time that you are going to want crepes the next day and then you actually have to go make the batter.
Buckwheat Galettes with Ham and Gruyere:
Crepe Batter:
2 large eggs
1 cup milk
1/3 cup water
2/3 cup AP flour
2/3 cup buckwheat flour
1/4 tsp salt
2 tbsp butter, melted
In a blender, blend all ingredients for five seconds. Scrape down sides and repeat. Cover and refrigerate for at least two hours to 24 hours.
Gently stir batter if it's separated. Heat a 7- or 10-inch crepe pan over medium-high heat. Coat pan lightly with butter (or you can also use non-stick spray). Lift the pan from the heat and pour two to three tablespoons of crepe batter, tilting and rotating pan to coat surface. Cook until almost dry on top and lightly browned on the edges, about one minute. Loosen the edges with a spatula and flip the crepe over using your fingers or the spatula. Cook the other side for about 15 seconds. Turn crepe out onto a clean towel (or paper towel) to cool. Repeat with remaining batter, wiping the pan with butter as needed and stacking crepes as you go.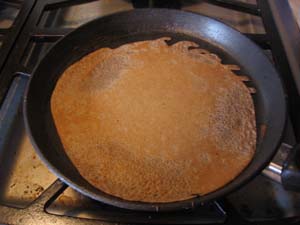 Crepes can be refrigerated for up to three days or be stored in the freezer for three months. Makes 16 7-inch crepes or 10 12-inch crepes.
To make the ham and cheese galettes:
4 10-inch crepes
4 thin slices ham
1 cup shredded gruyere or swiss cheese
1 tomato, diced
2 tsp dijon mustard
1 tbsp melted butter
2 tbsp grated parmesan
Preheat oven to 350 degrees. Spread 1/2 teaspoon of mustard down on each crepe. Cover each crepe with one slice of ham and 1/4 cup of cheese. Add some tomato and fold over four sides to encase filling and make a square packet. Place each packet upside down on a greased baking sheet. Brush with melted butter and sprinkle with parmesan cheese. Bake for 10 to 15 minutes or until heated through. They're kind of small folded up, so I serve two per person. If you had bigger crepes, like the ones at Ti Couz — which are huge! — one per person would be fine.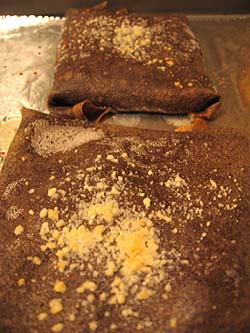 A tasty Accompaniment:
1 bunch asparagus, cleaned and trimed
1 tsp olive oil
2 cloves of garlic, peeled and diced
salt & pepper
A perfect side for this is some sautéed asparagus. If the stalks are pretty thick, steam for 2-3 minutes first but if they are skinny asparagus spears, just sauté raw with the garlic for a few minutes in the olive oil, then sprinkle with salt and pepper. Serve on a plate with the galettes. Open some wine and heartily dig into your meal. Mmm!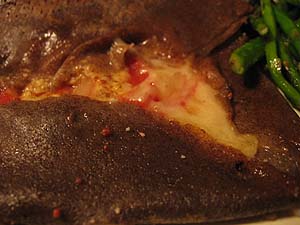 Next week: Photos of restaurants in Flagstaff that I liked, last-minute, Thanksgiving spaz-out, and a couple more things…