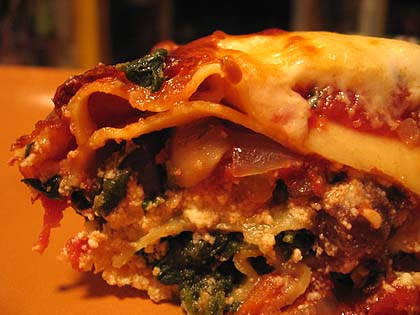 Sunday, for some reason, I was completely in the mood for lasagne. I think it was the weather and possibly the grayness and the fact that lasagne is so colorful and pretty. So, jwa and I headed off to Fred Meyer for some ingredients (noodles, ricotta and some spinach), as well as cleaning supplies. Which is one thing that I love about Fred Meyer — you can get say, a pair of jeans, a bottle of wine, some smoked gouda, and new wiper blades for your car. Very handy, that Fred Meyer.
The lasagne itself, after we sat down to eat it two hours or so later, was very good. It was all hot and gooey and well, colorful! I decided to make a quick sauce with canned, diced tomatoes, sautéed onions, wine and herbs, although I have just used jarred pasta sauce before as well.
Anyway, here's pretty much what I did Sunday night. We ate this, then watched two episodes of season three Curb Your Enthusiasm (from the library). Oh, I decided to use the no boil noodles. I had never tried those before but it was getting late and I was getting hungry! They weren't bad — I'd use them again.
Spinach & Black Olive Lasagne:
1 box lasagne noodles (the flat, no boil kind if you are feeling daring — or really hungry, otherwise, use normal noodles and cook those first — duh)
2 tbsp olive oil
1 onion, diced
4 cloves garlic, minced
3 cans diced (or crushed) tomatoes
1/2 cup red wine
1 tsp dried basil
1 tsp dried oregeno
1/4 tsp red pepper flakes
1/4 cup chopped black olives (you can use plain ol' black olives, nicoise or kalamata, depending on your preference and/or what you have)
salt
1 15 oz. container ricotta
1/4 cup parmesan
1/4 cup olive tapanade
1 egg
1 bag frozen spinach, defrosted and drained of excess water (putting it all in a clean kitchen towel or a number of paper towel sheets and then squeezing over the sink works well)
1 package white, button mushrooms, cleaned and sliced
1 yellow bell pepper, diced
Lots o' mozzarella cheese, grated
Garnish: Fresh basil
Sautee the onion in 1 tbsp of olive oil. Add some salt. Let the onions get soft and develop a bit of color, then add the garlic and cook for one minute more. Add the canned tomatoes and dry herbs. Bring to a boil and let simmer. Meanwhile, sauté the mushrroms and bell pepper in the other tbsp of olive oil. When soft and slightly golden, set aside. You can also add just a but of red wine to the mushrooms before removing from the heat, if you'd like. Just let the mushrooms absorb the wine, then set aside.
Add red pepper flakes, olives and wine to the sauce. Taste. Adjust any seasonings. Continue to simmer.
Combine the ricotta, parmesan, olive tapanade and egg. Add a bit of salt and pepper. Set aside.
Mix defrosted spinach with cooked mushrooms and bell pepper. You guessed it — set aside.
Finally, Assemblage:
Okay, so put a little sauce down in your lasagne pan. Then put a layer of noodles. Put a layer of spinach/mushrooms. Add some sauce. Then some shredded mozzarella. Then another layer of noodles. Now, layer the ricotta, then more sauce. Then noodles. Then, the rest of the sauce and a very generous topping of mozzarella. Go ahead, use the amount you really want to. If I were to say, "use 1 cup" would I really be fooling anyone? No. I don't measure it — I just pile it on top until it looks good. And I'm sure it's more than a cup!
As for the layers, I usually make big, thick layers. If you want more layers, use half the spinach, so you can have another spinach layer after the ricotta layer. Myself, I'm happy with just three or so tall layers.
Bake in a 375 degree oven for 45 – 50 minutes. If top is getting brown too quickly, cover lightly with foil after the first 20 minutes or so, then take the foil off for at least the last ten minutes of baking to achieve the amazing golden cheese crust. Oh and if you don't forget it at the store (like I did), fresh basil makes a great garnish for this!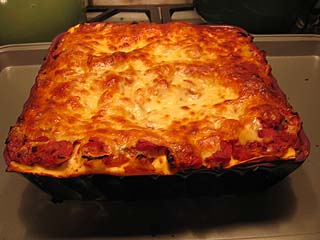 Hot from the oven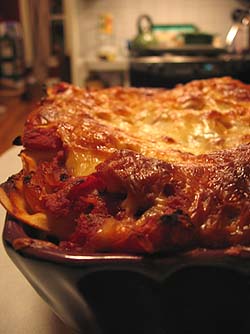 Excessively arty shot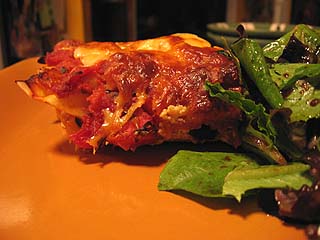 Plated, with a side salad (mixed greens with a fig-balsamic vinaigrette)