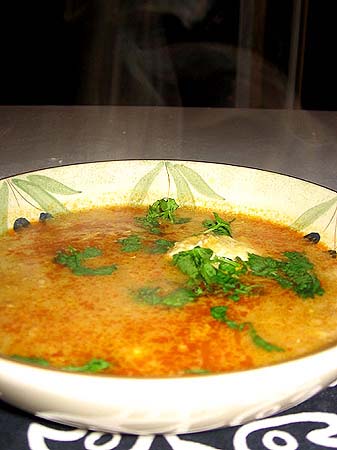 Last weekend, when I was in my, "Let's do a Spanish food night!" mood, I searched high and low for a recipe that we could have with the Tuna Empanaditas. I came across numerous mentions of Spanish Garlic & Bread Soup and loving garlic like I do, I just knew I had to give it a try. Plus, it was an opportunity to use the Smoked Spanish Paprika from my latest Penzey's excursion!
I ended up melding numerous recipes together based on what I had on hand, how much chicken stock my favorite soup pot could hold and what sounded good. Below, is what I came up with when all was said and done. I must admit, it was with both intrigue and trepidation that I decided to go ahead and poach eggs in the soup but I'm glad I did it. The soup (eggs and all) was very good and jwa liked it as well!
Also, don't be scared by all the garlic. It really didn't taste super garlicky. Honest! In fact, I am tempted to add more garlic next time because that is my way.
Bread & Garlic Soup with Poached Eggs (Sopa de Ajo)
4 cups chicken stock
1/3 cup good olive oil
2 cups breadcrumbs, make your own if possible (I started with cubed sourdough, then processed those into crumbs)
1 head of garlic, cloves separated, peeled and minced
1 tsp smoked paprika
A dash of cumin just for fun
Salt and pepper to taste
4 eggs (optional)
Chopped parsley for garnish
Heat the stock in a large, heavy-bottomed soup pot and bring to a simmer. In a smaller pan, heat the olive oil over medium-high heat, toss in the bread crumbs and stir until golden. Add paprika and garlic, and sauté 1-2 more minutes. Combine into the hot stock and continue simmer over low heat for about 30 minutes, stirring occasionally.
When ready to serve, salt to taste, bring back up to a medium simmer and break the eggs into the soup. Let poach until done — 5 minutes or so for a slightly runny yolk. Ladle into soup bowls, (each bowl getting a poached egg) and serve. Garnish with a little chopped fresh parsley.
***
Hey, speaking of soup — the new Jonathan Carrol novel, Glass Soup is supposedly on its way to me. Yay!