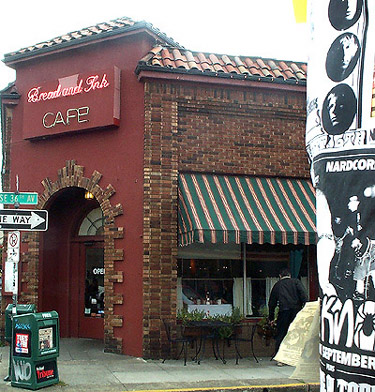 Bread & Ink Cafe
3610 SE Hawthorne Blvd
Portland, OR 97214-5144
(503) 239-4756
Recently, my friend Patty came down from Camas to spend the morning shopping on Hawthorne. Whenever we do these excursions, we typically find someplace to have breakfast or lunch, depending on the time of day. On this occasion, I suggested Bread & Ink, a restaurant that jwa and I head out to quite frequently.
A Saturday morning, around 10:00-ish
When we arrived, they were busy, but we got seated right away as there were a couple of tables open. Coffee came quickly and we gave our orders. It's funny, occasionally I will get a special they have on the board but my old standby seems to be the Smoked Trout Scramble. Eggs, cheese, smoked trout, pepper bacon and red onions with a generous dollop of horseradish sour cream — yum! Patty ended up getting the same thing and liked hers as well. Oh, and I can not say enough about the catsup that they have…I really love it on the breakfast potatoes!
Speaking of which, I am a big fan of the aforementioned herbed breakfast potatoes. And that being said, my favorite item, I think, is the bread. I . . . → Read More: Bread & Ink Cafe: A Tasty Weekend Breakfast