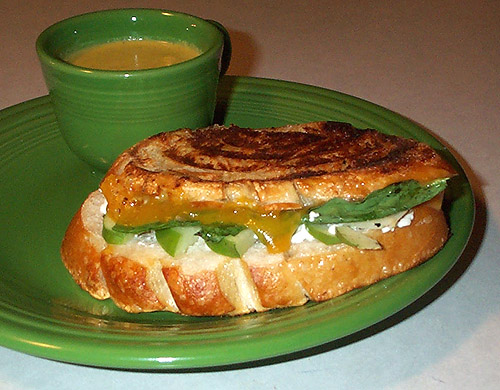 When I was younger, I remember making grilled cheese sandwiches with my grandma — we used those American cheese slices and white bread and they were really, really tasty.
In college, a roommate showed me her trick of spreading the butter on the bread before putting it down on in the hot pan (could that have been the most useful thing I learned in college?)
Lately, I've taken to making a grilled cheese the following way: sourdough bread with goat cheese, cheddar, granny smith apple, and spinach. I flattened mine, sort of like panini, by placing a cast iron skillet on top of the sandwich while it grilled in the grill pan. When I turned it over on the second side, I left the cast iron pan off and used a lid instead, to encourage maximum cheese meltage.
The accompanying soup in the photo is chilled carrot (cooked carrots, ginger, chicken stock, miso, onion, garlic, tofu, salt, pepper and a blender). It was good. That is all.
***
Crockery Corner
How could I have forgotten? I guess I was too excited about the grilled cheese! The plate and cup in the photo are…Fiestaware, in the color Shamrock. This is a great resource for Fiesta dishes.