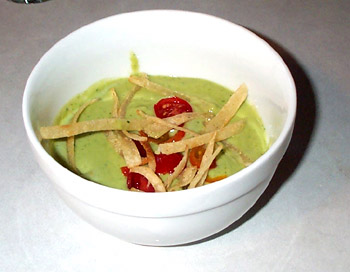 Remember the old Avocado Gazpacho recipe? The one with cucumber? The one here.
Well, forget that one. This one is much better (at least in my opinion) and has become a staple in our house on taco night*. It's more Mexican in flavor…kind of like a guacamole soup.
Chilled Avocado Soup:
2 ripe avocados
1 jalapeno, roasted until blackened, skin removed, seeded and diced
1 1/2 cups or so of chicken stock
1 lime, juiced
1 handful of cilantro, chopped
1 clove garlic
1 small onion, chopped
Salt & pepper to taste
Garnish
2 corn tortillas, sliced into thin strips and fried until crispy (I usually just coat the bottom of a pan with a somewhat generous about of peanut oil, add strips, let them get crispy, remove, salt and drain on paper towels — sometimes I sprinkle cumin on the strips too)
chopped tomato or cherry tomatoes
***
Peel and pit avocados, drop in blender along with as much jalapeno as you want (I usually start with half), the garlic, onion, stock and about half the lime juice. Blend. Add more stock if needed to thin it out. Add the cilantro. Blend again. Taste. Add more jalapeno and lime as needed (I like mine really limey, but understand if some people don't…fools!) Salt & pepper to taste.
Chill for one to two hours.
Divide between bowls and top with tortilla strips, tomatoes, and perhaps extra cilantro. Serve with chips and a variety of hot sauces for the more adventurous — perhaps even use as a side with tacos, like we do (that way you can drizzle some on each taco bite). Mmm!
* Ahhhh, taco night. I'm sure there will be a post soon about the beloved taco night. A tradition that started in the Bay Area on Tuesdays, to coincide with Buffy.