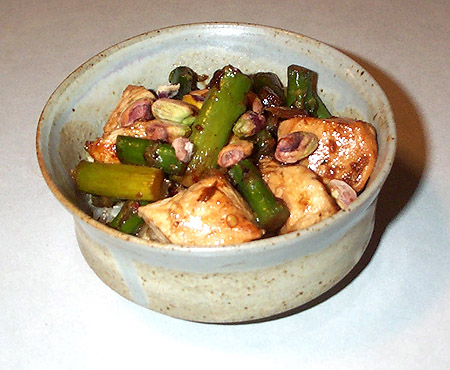 This is a pretty tasty, moderately fast week night dinner!
Chicken with Asparagus & Pistachios
1 tbsp toasted sesame oil
1 1/2 pounds fresh asparagus, ends trimmed, and cut into 1-inch pieces
1 pound of chicken breasts, trimmed of excess fat and cut into bite-sized pieces (I prefer these on the big side of bite-sized)
1 small white onion, diced (if it's not a small onion, feel free to use a half or a quarter of it only)
1-inch piece fresh ginger, diced very fine
1 tbsp oyster sauce
1 tsp chili-garlic sauce
1/4 cup (or less) chicken stock
1/4 cup shelled pistachios, coarsely chopped
***
Heat oil in large skillet or wok over medium-high heat. Add onion and asparagus, stirring for about 2 minutes. Add chicken and cook for about 3 minutes. Stir in sauces and ginger. Continue cooking for about two more minutes. Add enough stock to scrape up any browned bits on the bottom of the pan to make a quick sauce. When chicken is just done — one to two minutes more — serve over rice. Sprinkle with pistachios pieces.
I used brown rice but basmati would be nice too. A little soy sauce on the side is good as well — mmmm…maybe even some green onions for garnish.
***
Crockery Corner
Hey! I made this — at PCC (Portland Community College), in a community education pottery class. My bowls are getting more bowl-like and everything. They actually have a very nice ceramics studio at the newer SE Center at Division and 82nd. But the classes seem to fill up quickly. If you want to get in, you have to be on the ball and remember to register the very first day…
***
Grilled Cheese Day:
Apparently, it's Grilled Cheese Day on Monday over at Slashfood! Oh, I really think getting that perfect grilled cheese photo will be a weekend project.