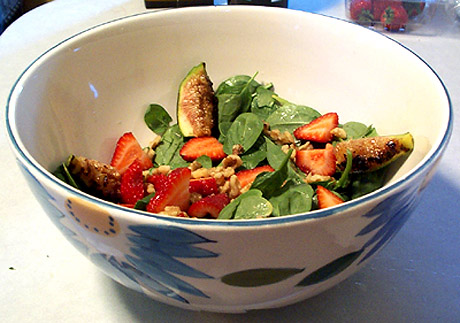 This has completely turned into my favorite salad. The idea was hatched by watching Paula Deen one lazy Saturday. I love this show — not so much for getting food ideas — but because of Paula Deen. She's a lot of fun to watch — as she attempts a bite of a steaming hot foodstuff, while muttering,"I hope I don't burn my pie-hole!" in her twangy, Southern accent, or as she talks fondly about her sons, or as she cackles with infectious glee. I don't know, she just seems like such a fun, fun lady. A fun lady who uses a stick of butter in almost anything she makes, but still…
That being said, I will confess to making and loving her cheese ball recipe. I made that over Christmas and wow, it was good! It involved lining a bowl with saran wrap, then placing provolone at the bottom and up the sides of the bowl, then layering a cream cheese / goat cheese / and grated cheese mix inside, then layering sun-dried tomatoes on top of that, then more cheese mix, then pesto, then sealing w/ more provolone. Then refrigerating the whole mass of cheesy-goodness so that it firms up. Then you simply flip the bowl onto a plate and pull it off. Ta da! Cheese ball! Huh — I seem to have gotten off-track here. I'm sure there will be a post about the magic pesto/sun-dried tomato cheese ball around holiday time.
Huh, you start a post about a salad and end up talking about a cheese ball. Funny how that can happen. To me.
So, yeah, salad, salad. On to the salad. A while ago Paula made a salad with spinach and strawberries. It seemed like such an odd combination to me, that I was immediately compelled to give it a try. I did and it's so good!
Strawberry & Spinach Salad:
1 bag baby spinach
Strawberries, washed & sliced
A handful of chopped walnuts
A red wine vinaigrette of your choice
Sprinkle strawberry slices on top of the spinach (which has been washed and placed in a big salad bowl). Top with walnuts. Toss with your favorite salad dressing or make your own with red wine vinegar.
I've been using Brianna's Blush Wine Vinaigrette, which tastes great with this salad. This came about as I was perusing the salad dressing aisle and saw the big strawberry on the label and thought to give it a try with this salad. So helpful, those Brianna people!
Variations:
The other night, I added a grilled fig (found at Limbo in SE Portland) to the salad. I sliced it in half, grilled on my grill pan and then sliced those halves in half — so that I ended up with a grilled, quartered fig. I was feeling adventurous*, so I also added some parmesan cheese shavings to the top of the salad. The saltiness of the cheese went really well with the sweetness of the strawberries!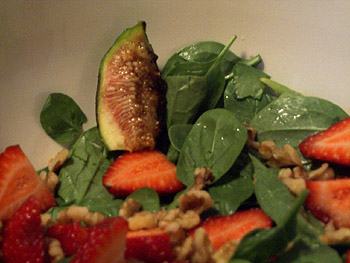 * Okay, so, does one really have to feel the need for adventure to add cheese to something? No, probably not.