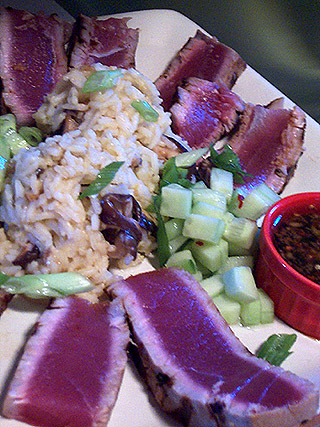 A week or so ago, I made my favorite "fancy dinner" (I think it's jwa's too). Seared ahi tuna, shitake-miso rice and cucumber slaw (I know! I have no idea why I like cucumbers here!). And, yeah, it's more diced than, uh, slaw-shaped, but, it's my menu and I'm callin' it slaw, damn it!
The planning usually starts with a trip to Wild Oats or New Season's Market. We typically only have this dinner once a month or so because nice, sushi-grade tuna is super expensive, at anywhere from $16.99 – $18.99/lb. I get 3/4 to one full pound, because when it comes to seared tuna, we can both be gluttonous.
Tuna Marinade:
3 Tbsp soy sauce
1 Tbsp seasme oil
1 Tbsp rice wine vinegar
Juice of half a lime
6 thin slices of peeled, fresh ginger
2 cloves of garlic, diced very fine or run through a garlic press
A dash of red pepper flakes
I usually make a double recipe of the above — pour half of the concoction in a freezer bag and use that to actually marinade the tuna (2-3 hours). The other half, I store in the fridge to use as a dipping sauce.
To sear the fish, I heat up . . . → Read More: Favorite Fancy Dinner